Mission statement
Auditory Space, LLC leverages 20+ years of expertise in the science of spatial hearing to design, implement, advise, and validate solutions in the audio, entertainment, and research industries. We develop software tools for researchers and technology developers in the VR/AR space. We conduct expert research to quantify and understand how technologies impact auditory experiences in diverse populations of listeners. We provide consulting and systems-integration services to develop unique facilities for spatial-hearing research in multisensory, interactive contexts.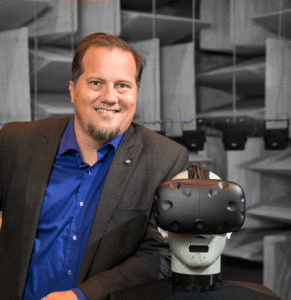 Founder and Chief Scientist
G. Christopher Stecker, Ph.D., F.A.S.A. An expert in spatial hearing by human listeners and in auditory neuroscience, Dr. Stecker completed his Ph.D. at the University of California (Berkeley) and postdoctoral training at the University of Michigan. Since then, he has served in the Department of Veterans Affairs (Martinez CA) and on the faculties of the University of Washington and Vanderbilt University School of Medicine. Dr. Stecker's research has produced over 50 publications (>1000 citations), >200 national and international presentations, and over $2.5M in federal research grants.